Ever wondered how your Zillow Zestimate compares to your actual Santa Barbara home value?
You're not alone. Millions of people log on to Zillow every day in order to see what home values are either within their neighborhood, for a home they might be interested in buying and even what their own home's "Zestimate" is at the moment. But how close is a Zestimate to the actual value of a Santa Barbara home?
A Zestimate is an estimate of a home's value according to an computer algorithm created by Zillow. As one of the most popular real estate resources on the Web, I know my clients use Zillow to get a ballpark range of their home's value. Many of my clients – like other home buyers, sellers and owners – consider the Zestimate number to be an accurate assessment of thier home's value. However, I often find that the Zestimate is far from a true estimate of value for a home in Santa Barbara.
The reality is that a computer algorithm can not take in all the unique considerations needed to determine a true and accurate Santa Barbara home value. Here's why:
Four Things A Zestimate Can't Tell You About Your Santa Barbara Home Value
1. Computer Data Mistakes
A Zestimate is largely based on the basic computer data that is collected across the web about a home. Zillow utilizes a variety of data sources and public records for data that is available about a property. Unfortunately, rarely are the values based on these data sources and a randomly generated computer algorithm accurate.
Many errors can happen when generating a Zestimate. For instance, the home may be listed in public records as a three bedroom, when there's actually four. The square footage could be off, as well as lot size. Any of these inconsistencies can have a big impact on your Zestimate.
As a Zillow user, you can correct some of these mistakes on your listing, but it still may not improve the accuracy of your Zestimate.
2. Renovations and Upgrades
Perhaps two years ago, you spent $25,0000 completely renovating a kitchen. You installed gorgeous granite counter tops and state-of-the-art appliances. Zillow doesn't know about the improvements put into a home, so they won't be reflected in a Zestimate.
Did you install a new roof, remodel a bathroom, add new landscaping? Is your home well maintained or maybe 'original' and needing some love? Zillow can't see or measure any of that. It takes a someone like me, a Santa Barbara real estate professional – a "real" person – to evaluate upgrades and maintenance of a home when determining its true value.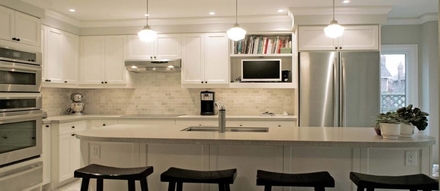 3. Unique Attributes and Features
The Zillow algorithm focuses largely on property data and current housing turnover. It doesn't have a way to measure those individual features that make a home more valuable. For instance, one home could stand out among others in its neighborhood because of its fabulous open floor plan or decadent master retreat. It could have awesome outdoor living space, or a view far and away beyond that of its nearest neighbors. Any of these things could make a Santa Barbara home value higher – or lower – than its Zestimate indicates.

4. Neighborhood and Location
Location is a HUGE factor in determining the value of a home. Location includes things like views, proximity to retail or schools or being located on the busiest corner of the neighborhood. Zillow can't measure these factors either, making the Zestimate inaccurate. I recently blogged on the subject of location and Santa Barbara real estate. The gist is that it takes an experienced real estate agent to evaluate location and other factors to determine the real value of a Santa Barbara home.

When it comes to listing your property or writing an offer on a house, you want to make sure you're getting the best information possible. Your best resource for expert information is coming to a professional like me, Sally Dewan, your Santa Barbara real estate expert.
As a Santa Barbara real estate professional I can provide you with the insight you need to know about the Santa Barbara housing market and the value of your own home or one you may be interested in selling or buying.
This doesn't mean that your Zestimate should be thrown out the window. Your Zestimate can serve as a valuable starting point when it comes to pricing your home. Remember, though, that it takes a real person to give you personalized insight, advice and recommendations. If you want to read more about this subject and the accuracy of Zillow Zestimates or the lack there of, you may want to read this article from the LA Times.
There you have it. I hope you found this information useful and if so, I'd love to hear about it. Send me a note or ask a question or leave a comment below.
And if you're serious about valuing your own home, I'd be happy to help! See below for information on how to have your property valued or contact me directly.
Curious About Your Home's Current Value?
Fill Out The Form Below For A Complimentary Report
You'll receive:
Summary of comparable listings near you
Complete property details including photos and pricing for homes selling in your neighborhood
Comparison of home list price vs. actual selling price for recently sold homes
Trends showing if prices are rising
How long it takes to sell in your area
Information to suggest a good time to buy